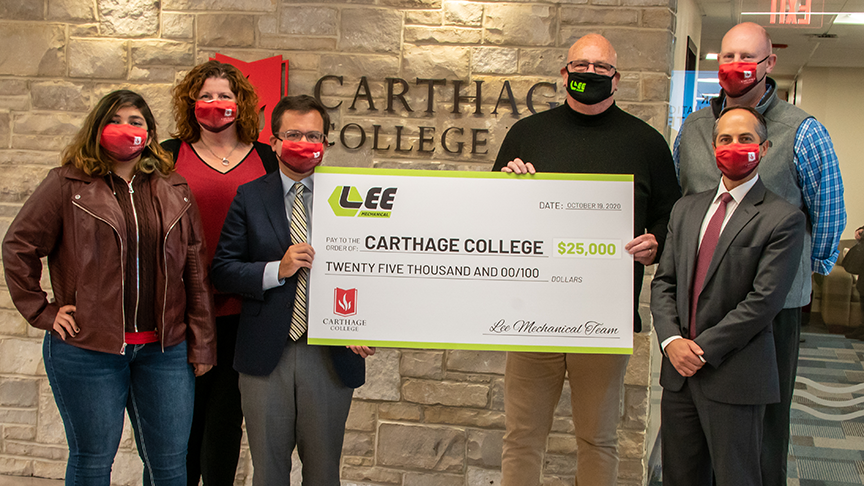 Pictured (left to right): Noemi Norman '23; Corinne Ness, Dean for the Division of Arts and Humanities; President and CEO John R. Swallow; Bob Lee, Jr; Nate Stewart, Director of Athletics; Thomas Kline, Vice President for Institutional Advancement
Lee Mechanical Donates to Carthage College & Athletics
Giving to the Carthage Fund is the foundation of support for the College's mission. Carthage Fund gifts support the day-to-day operation of the College, meaning everything from the salaries of professors to financial aid for students. Through the Carthage Fund, Carthage can flexibly fund new initiatives and needs that will have the greatest near-term impact, significantly raising the quality of educational, cultural, and co-curricular programs.
The support of Carthage Athletics, and specifically Carthage baseball, runs deep within the Lee Family. More information about Bob Lee Sr. and Carthage can be found here.
This $25,000 gift supports fine arts programming in partnership with the Boys & Girls Club of Kenosha and Carthage College. It's a true example of how community partnerships help strengthen and expand the Carthage mission.
Lee Mechanical's gift will support the "This Is My Place" project, a joint venture between the Boys & Girls Club of Kenosha and Carthage.
The program was developed by Corinne Ness, associate professor of music at Carthage College. According to Ness, this multimedia arts project will help engage students from underserved populations, giving them "voice" through music theatre and visual art to create a one-hour piece that represents how they understand the world around them – how they make sense of their physical and social "place" and what it means to them in their life.
"Now – more than ever – our students need the opportunity that the arts provide to reflect and make meaning of their emotion and experiences," stated Ness.
A diverse group of Carthage faculty, students and recent alumni worked with local students on art (ceramics, printmaking, and stop motion animation) and music theatre (acting, dance, singing, beatboxing, and creating new stories). They spent three weeks at the Boys & Girls Club of Kenosha, and then moved into post-production, where they framed students' prints and edited the video for sharing. The Boys & Girls Club of Kenosha club will be able to auction the framed prints to raise funds for arts programming, and the video can be shared with family and friends.
Lee Mechanical also has a close relationship with Carthage College through the Shirley Madrigrano & Natalie Lee Arts Foundation. The Foundation was established in 2016, by Joe Madrigrano Jr. and Bob Lee Jr. The goal of the foundation is to support the Boys & Girls Club of Kenosha arts programs and allow more students to be exposed to the arts each and every year. Madrigrano and Lee created the Foundation to honor their late mothers.
"Art lets one become the person they imagine themselves to be as an adult," stated the foundation co-creators.