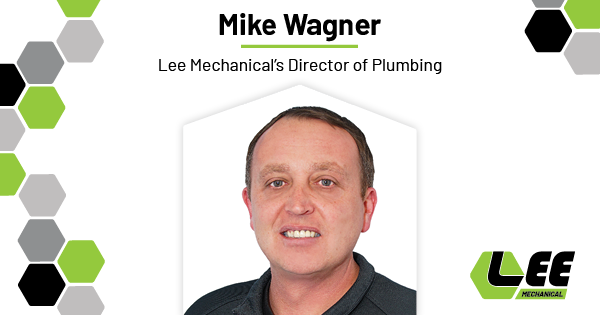 Mike Wagner has been appointed by the Lee Mechanical Board to Director of Plumbing. Mike will be responsible for the oversight of the plumbing department in its entirety. He will manage the department personnel to ensure the procurement of projects that align with our company mission. He will be an asset in his new role with his ability to identify, develop and implement market-driven strategies aimed to grow the company. The strength of our current plumbing team will complement Mike in forming a top-tier group in our industry.
Mike has been with Lee since 2007 where he completed his plumbing apprenticeship. Over the years he has worked his way up from an apprentice to a project manager. Over his 14 year career with Lee, he has always excelled with all tasks at hand. Throughout his career, Mike has been able to acquire millions of dollars of negotiated and bid work in a multitude of markets including healthcare, commercial, K-12 schools, higher education, and industrial. Mike's strong interpersonal skills have allowed him to develop and maintain key industry partnerships with clients and vendors alike. These relationships have helped him in his current role to support the company mission as well as growth.
Mike embodies Lee Mechanical's commitment to developing leaders in the construction industry. Mike will be a very effective leader because of his thorough understanding of construction and market conditions. His ability to work within a client's needs and expectations provides value to our clients.
Mike is married to Heather and resides in Kenosha. When Mike is not hard at work with the Lee team, he enjoys spending time in the great outdoors, fishing, and riding ATVs. Mike has always said, "It's very fulfilling to help a customer that is having issues and doesn't know where to turn". He has used that mindset to help him become the leader he is today.
The Lee Team is very excited about these changes and what it means for the company. With these changes we know we will be able to continue to grow and support our customers with the quality they have been accustomed to expecting from the Lee team.
–Bob Lee Jr., Lee Mechanical President
REQUEST FORM
"*" indicates required fields